Beast Quake is a rare Indica-dominant hybrid strain, made up of 80% indica and 20% Sativa. It was created by crossing the classic Beast Mode and Cheese Quake strains, and it really packs a punch: the bud contains a super high level 26-30% average THC level. Combined with the incredible flavour, one session with Beast Quake will have you wanting more!
If you're looking for a heavy-hitting high and a super unique flavour, you've found it. Our Beast Quake is rated AAAA+, and this quad-A will take you to new heights!
What Can I Expect Smoking Beast Quake?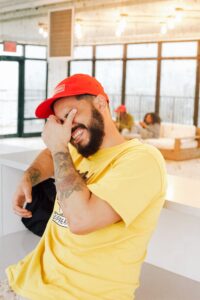 Beast Quake starts with a euphoric feeling that quickly shakes its way into your brain, edging out negative or racing thoughts and replacing them with giddy happiness. You'll find yourself falling into fits of giggles as your body settles into a deeply relaxing state that can leave you feeling slightly sedated and couch-locked if you're not careful. 
Beast Quake is an Indica-dominant hybrid, giving the user more of a "body" high than a "heady" high. Thanks to these heavy effects, Beast Quake is recommended for experienced users suffering from conditions such as chronic pain, mood swings, chronic fatigue, depression, Bipolar Disorder, and chronic stress. 
If you're planning on smoking Beast Quake, clear your schedule: you might be on the couch for a while!
What Does Beast Quake Smell Like?
Beast Quake bud's smell and taste are part of the reason why it rates so highly. Even newbies will notice the sweet grape flavour with hints of sour pungent cheese upon exhale. The aroma is earthy and woody with a rich grape overtone that turns pungent and cheesy as the nugs are broken apart and burned. It's an experience unlike anything else!
What Does Beast Quake Look Like?
Beast Quake buds have a classic look: they are oversized, fluffy, neon green nugs with dark orange hairs and a coating of sandy golden crystal trichomes. Before you grind them, you might find yourself admiring these little treasures!
Find Beast Quake AAAA+ On Sale Now!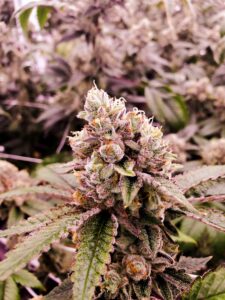 Cannabis can be graded on a system, and we like to highlight the grade so THC Collection customers can find the best bud for their money. Beast Quake is what's known on the market as "AAAA+" or "quad-A" bud; this is a cannabis grade that means the flowers deliver the best quality of its kind. It ranks highest in all traits: a pungent odour, a sharp flavour, great flower structure, and a smooth burn.
Beast Quake exceeds the expectation you'll get from the highest grade possible, and it's quickly becoming a favourite among our customers. You'll find this strain on sale now at a ridiculous price – get it before it's gone!