One of the newer strains to hit our shelves is Meat Breath AAAA+. It's well-known for its distinct, almost unrivalled aroma and flavour and high levels of THC. What can you expect when you choose this high-quality strain?
What Is Meat Breath AAAA+?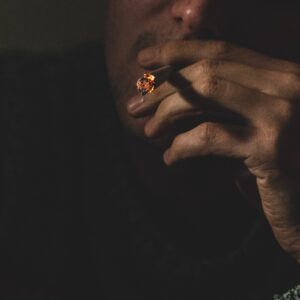 While the name might sound a little off-putting, it comes from its lineage: Meat Breath crosses Meatloaf and Mendo Breath. The result is a rare, evenly balanced hybrid strain (that's 50% Indica and 50% Sativa). It delivers well-balanced effects that hit both mind and body, and it has a heavy potency to boot: the average THC levels are between 27-29%.
Representing the Indicas of today, Meat Breath buds contain many colours: the tapered buds are deep purple and bright minty green, and they are covered in orange hairs and a thick coating of trichomes. It makes this flower striking in both colour and contrast, but what can you expect from its high?
What Is The Aroma And Flavour Profile Of Meat Breath AAAA+?
Meat Breath has a reputation for being quite pungent. As you light it, the weed will smell earthy and sweet, giving off a distinct diesel aroma with spicy undertones that fill any room with a powerful stench. Putting it mildly, it's dank, and because the aroma tends to linger, this is one to smoke outdoors.
The taste of Meat Breath lingers just as long as the smell, but it's one of the more unique flavours we've encountered: the taste is a super dank and spicy citrus diesel, with a notable hint of meatloaf upon exhale.
What Effects Can I Expect From Meat Breath AAAA+?
Meat Breath is a THC-dominant strain that the people behind it intended to kick in ha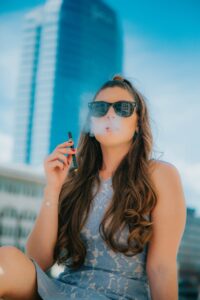 rd, so if you're new, be careful when dosing. Experienced cannabis consumers will feel uplifting effects and a deep sense of relaxation throughout the entire body. It delivers an upbeat high, making Meat Breath a choice strain for sharing with friends or in gatherings. 
You'll feel a euphoric onset settle into your mind soon after your final toke, filling you with energy that's both lifting and mellow. As the high winds down, it will gently nudge the user into sleep.
People also turn to Meat Breath for chronic issues surrounding pain and sleep. It's a good choice for medicinal users who want to treat chronic fatigue, chronic pain, chronic stress, depression, nausea, and appetite loss.
At THC Collection, we categorize Meat Breath as AAAA+. It means that this evenly-balanced strain ticks all the boxes on what excellent weed should be: good nose and taste, good high, cured well, and bag appeal to boot. It's a top-shelf strain, one of the best available, and we recommend you try it today!