Black Diamond, also called "Black Diamond OG" and "Black Diamond Kush," is an Indica weed strain originating in Northern California. Black diamond has a high THC content. This strain's THC content varies between 18 and 24 percent. The plant's buds will be very frosted, with only a few of the spectacular trichomes remaining. Orange-colored hairs that are long and thin shoot out of the denser bugs in the buds. This strain's scent is described as earthy and musky, similar to that of red wine.
Black Diamond Strain Benefits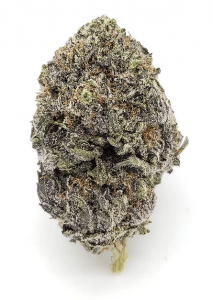 This is useful for pain relief, muscle spasms, nausea, and anxiety. Furthermore, Black Diamond causes users to become hungry, so it can be utilised by individuals who are experiencing a loss of appetite. It's a cross of Blackberry and Diamond OG, an OG Kush hybrid. This strain gives you a powerful sedative high while still allowing you to think clearly, making it ideal for concentration and discussion. Black Diamond has great bag appeal, with multicoloured blooms and a vibrant, powerful scent, in addition to its psychoactive intensity. Enjoyable in group settings, it can also set the ideal mood for some quality self care time! People who injest or smoke Black Diamond may find themselves more relaxed and able to breathe more deeply and easily.
Black Diamond Flower Buds
Black Diamond has a strong berry scent that comes from the parent strain Blackberry when properly cured. On closer investigation, there's also a damp and earthy undercurrent. While the buds are being broken up or ground, they emit a nutty, toasted aroma. Black Diamond produces a very smooth smoke for an indica; on the exhale, this smoke leaves a taste of oak and berries. Black Diamond, in particular, has no identifiable grape flavour, which is due to the pigments that give the leaves their purple hues having no effect on the taste.
Black Diamond can be an great way to enhance your smoking experience or group setting. This strain is one of our personal favourites! Looking to purchase Black Diamond weed online? Feel free to check out our current selection of buds. THC Collection also carries other popular cannabis strains, edibles, hash oil, concentrates, CBD, and more.