Looking for a cannabis brownie recipe? Look no further! In this blog post, we will provide you with our favourite recipe for the perfect cannabis brownies. These brownies are easy to make and will definitely satisfy your sweet tooth. Be sure to try them out!
Ingredients:
– 1/2 cup of cannabis butter or oil
– 2 large eggs
– 1 1/4 cups sugar
– 3/4 cup of all-purpose flour
– 1/4 cup cocoa powder
– 1/4 teaspoon salt
– 1 tablespoon Molasses
– 1 teaspoon vanilla extract
Optional ingredients:
– 1/2 cup of chopped nuts
– 1/2 cup of chocolate chips
Instructions: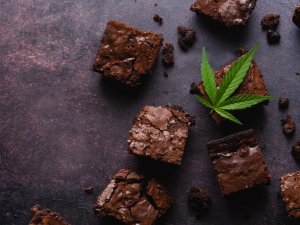 Preheat the oven to 350 degrees Fahrenheit. In a large bowl, combine the ingredients. Mix until well combined. If desired, fold in the chopped nuts or chocolate chips. 
Spread the batter evenly in a greased 11×17 inch baking dish. Bake for 20 minutes or until a toothpick inserted into the centre comes out clean. 
Allow to cool before cutting into squares. Enjoy your cannabis edible brownies!